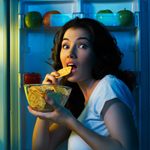 In this one day workshop, from emotional eating to mindful living, we talk about why food becomes a problem for us, and why it is often all about emotions.
Studies tell us that many of us turn to food when we are feeling stressed/emotional or otherwise vulnerable – we use food to do something it wasn't designed to do.
The good news is that we can learn how to handle our thoughts and feelings so that they don't push us around so much and cause us to numb ourselves through over-eating.  Emotional eating is fuelled by us not recognising what is going on for us emotionally, or if we do recognise it, not knowing what to do about it.
Unfortunately we are not usually taught how to handle difficult feelings.   The one day workshop is about getting to know yourself through 3 key methods which help us manage strong emotions
a)      Define what is important to us in the big scheme of things and act according to our values
b)      Use mindfulness of thoughts and emotions as our guide through life
c)       allow our mistakes through acceptance and compassion
Read our recent article in Mindfood to find out more about how we work